Turn 2014
Micro-festival of new dance.
Presented by Word of Warning + Contact
###Friday 4 + Saturday 5 April 2014, 7.30pm Explosive, intimate, graceful and challenging — a two night micro-festival of emerging danceworks. Sinuous physicality and flying acrobatic exuberance; tender personal moments and giant shadows bending sound — Turn 2014 invites you to join the dance…
####Venue + Booking Details Dates: Friday 4 + Saturday 5 April 2014, 7.30pm
Venue: Contact, Oxford Road, Manchester, M15 6JA
Tickets: £9/5 (two night pass £11/6) ¦ Special offer: buy ten tickets, get one free
Box Office Tel: 0161 274 0600
####More
Turn 2014 is our sixth annual platform for dancers + dance-makers, featuring seventeen new works (participating artists subject to change):
Ane Iselin Brogeland ¦ Anna Macdonald ¦ Anoikis ¦ Ashleigh Berry ¦ Christopher Owen ¦ Debbie Freedman ¦ Ellen Turner ¦ Fluxus Collective ¦ Gracefool Collective ¦ Hannah Buckley ¦ Jane Munro + the visitors ¦ Jo Ashbridge ¦ Joshua Hubbard F*#¿!D ¦ Levantes Dance Theatre ¦ Peter Grist + Company ¦ Tom Bowes Dance ¦ Yi-Han Wu 吳逸涵 + Oscar South
Now it's all over, see Turn 2014's image gallery.
####Schedule (timings are approximate and subject to change)
To download, right click and save image.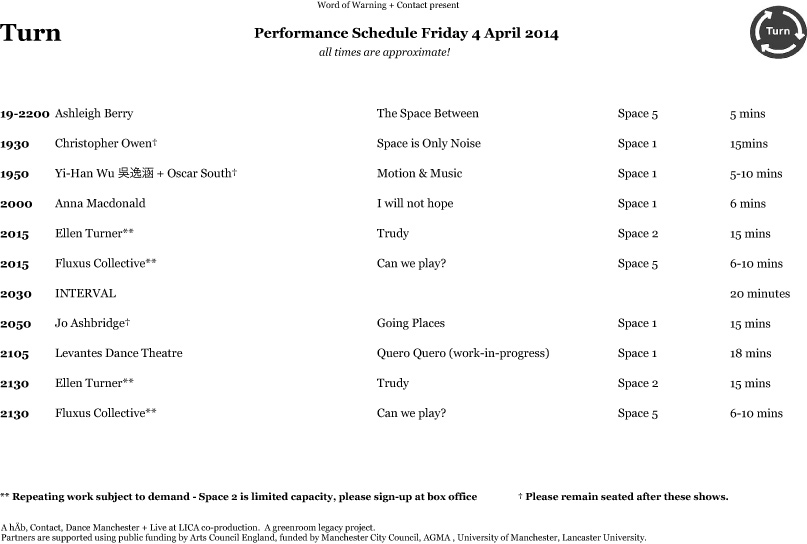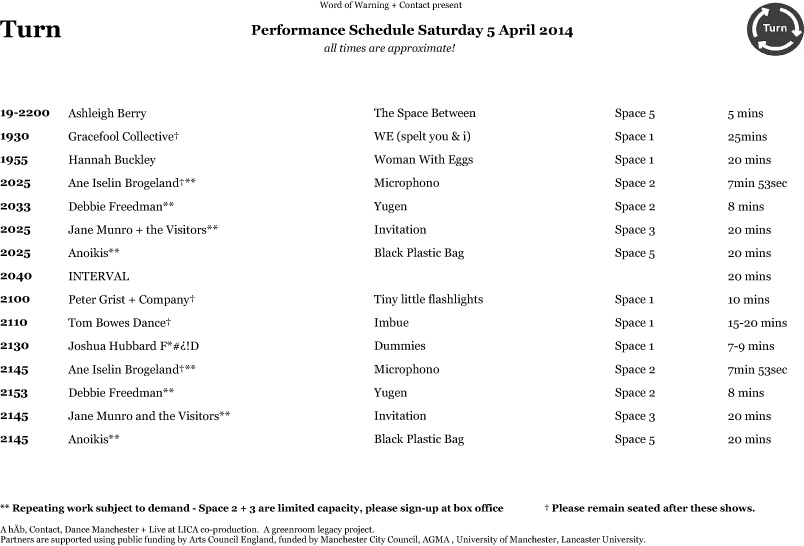 ####What people have said about Turn
★★★★One of the key events in Manchester's dance calendar.
The Public Reviews (2013)
Great to see creative innovative new local work. Really good vibe.
…a new experience. Too many highlights to mention. Thank you WoW!
Weird and wonderful — as always.
Fantastic platform for artists.
Audience Feedback (2013)
A 4★ review of Turn 2013's first night by the public reviews.
A documentary film about Tom Bowes Dance performing Brute in Turn 2013.
A preview of Turn 2014 by Manchester Wire
####Credits
Co-produced by hÅb, Contact, Dance Manchester + Live at LICA; a greenroom legacy project.
####Websites
http://turnmcr.org ¦ #TurnMcr
Ashleigh Berry | Christopher Owen | Yi-Han Wu 吳逸涵 + Oscar South | Anna Macdonald | Ellen Turner | Fluxus Collective | Jo Ashbridge | Levantes Dance Theatre
Ashleigh Berry | Gracefool Collective | Hannah Buckley | Ane Iselin Brogeland | Debbie Freedman | Jane Munro + the visitors | Anoikis | Peter Grist + Company | Tom Bowes Dance | Joshua Hubbard F*#¿!D