Turn 2013
Micro-festival of new north west dance.
Presented by Word of Warning + Contact
Explosive, intimate, graceful and challenging — a two night micro-festival of emerging north west danceworks.
Plus: SoundMoves Mixed Movement Jam, Saturday from 10pm.
####Venue + Booking Details Dates: Friday 19 + Saturday 20 April 2013, 7.30pm
Venue: Contact, Oxford Road, Manchester, M15 6JA
Tickets: £8/5 (2 night pass £10/6)
Box Office Tel: 0161 274 0600
From intimate encounters in tiny cupboards to slow-dancing in the dark, mass ensemble precision to individual grace, Turn 2012 filled Contact to the brim with energy and virtuosity.
Turn returns in 2013 with fifteen new works, featuring (subject to change):
STOP PRESS: There will be pre-show events in the building from 7pm, including interactive and intimate performances.
Friday 19 April, from 7.30pm
Rebekka Platt | hop.skip.jump dance collective | Jo Ashbridge | Adam John Roberts | Jessica Butler | Oblique Strategists | Ian and Jane | Daniela B Larsen & Robert Guy
Saturday 20 April, from 7.30pm
Rebekka Platt | The Mustdashios | Joseph Lau, Shona Roberts & Joseph While | Tom Bowes Dance | Percussive Customer Projects | Maelstrom Productions | Emma Lansley | Joshua Hubbard F*#"!D | from 10pm SoundMoves Mixed Movement Jam
####Schedule All times are approximate and subject to change.
To download, right click and save image.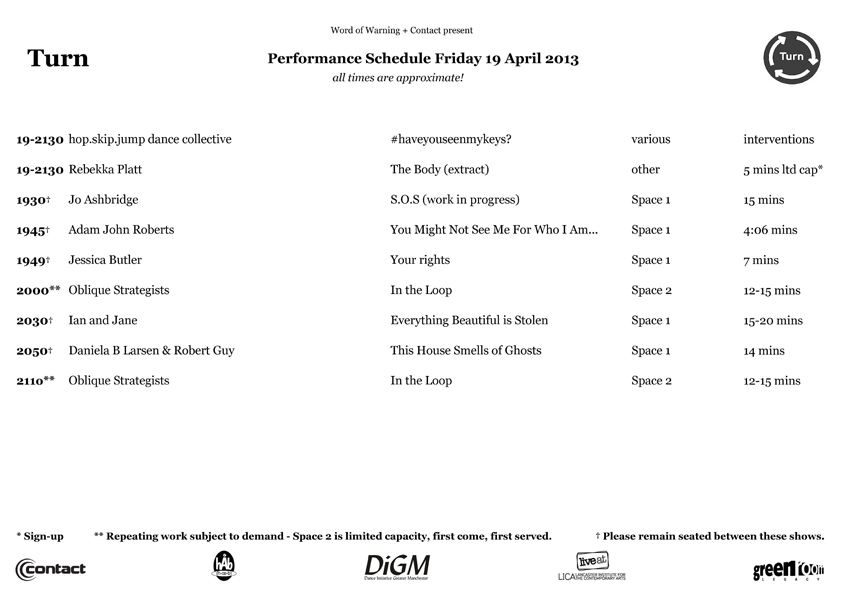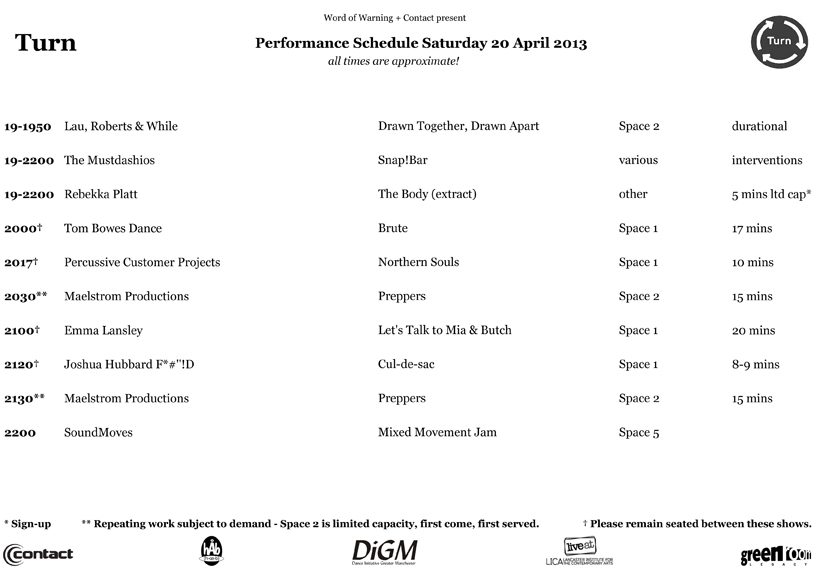 ####What people said about Turn 2013
A 4* review of Friday night is here.
A gallery of images from both nights is here.
A documentary about Tom Bowes Dance performing Brute on Saturday night is here.
####Credits
Co-produced by hÅb, Contact, Dance initiative Greater Manchester + Live at LICA.
Rebekka Platt
hop.skip.jump dance collective
Jo Ashbridge
Oblique Strategists
Jessica Butler
Adam John Roberts
Ian and Jane
Daniela B Larsen & Robert Guy
Rebekka Platt
The Mustdashios
Percussive Customer Projects
Lau, Roberts & While
Tom Bowes Dance
Maelstrom Productions
Emma Lansley
Joshua Hubbard F*#"!D
SoundMoves Mixed Movement Jam