Presented by Contact + Word of Warning
####In Brief In 2010 a friend of Jenna's was the victim of a violent attack. Shocked to discover there were bystanders at the scene, Jenna created Flâneurs in an attempt to explore why we choose to intervene or not, and asks whether 'one punch is enough' to provoke an intervention. Flâneurs is a new piece of theatre that explores the nature of violence in our cities and attempts to deconstruct the 'bystander effect'.
The larger the crowd, the less likely it is that anyone will intervene…
Watch trailer here.
Winner of Scotsman Fringe First Award 2012.
####Venue + Booking Details Date: Thursday 20 June 2013, 7.30pm
Venue: Contact, Oxford Road, Manchester, M15 6JA
Tickets: £8/5
Box Office Tel: 0161 274 0600
####Q&A
There will be a post-show discussion.
####More
Flâneurs is a touching and effecting story of friendship, violence and intervention, that explores the nature of violent acts in public spaces, from a pedestrian subway in Edinburgh to London's Overground.
Reflecting on her own city, Jenna examines why particular urban areas gain and retain a reputation for being rough or even dangerous and asks, what can we do, if anything, to change our own psychogeographic relationship to where we live. With first-hand accounts from the Scottish Constabulary and victims of violence, Flâneurs uses simple projections, psycho-geography and a little flâneuring to expose and deconstruct the social psychological phenomena known as the 'bystander effect'.
####Who is she? Jenna is a Scottish live artist, theatre-maker and director.
Flâneurs premiered at Summerhall during the Edinburgh Fringe 2012. Her other works include It's Ok, It's only Temporary; the apple smashing piece and Little Vikings Are Never Lost.
Jenna has directed and created work for National Theatre of Scotland, Traverse Theatre, The Basement — Brighton, Camden People's Theatre, Artlink, Lung Ha's Theatre Company, Forest Fringe, The Arches, Imaginate Festival Fringe for Families, National Review of Live Art and North Edinburgh Arts.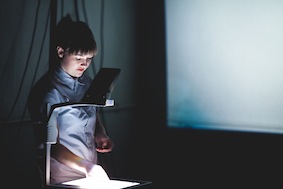 ####What people have said about her
A 4* review of Flâneurs at Contact is here.
4* A richly thoughtful show.
The Scotsman
Utterly charming and surprisingly light-hearted.
The Stage
Give Jenna Watt an hour of your time, a projector and a toy giraffe: she'll change your whole outlook. Immense.
Fringe Biscuit
That casual air of Watt's stage presence, however, conflicts violently with the questions she is forcing us all to ask ourselves: am I a bystander, or am I a flâneur? These questions lead to a twist ending that will truly leave you dizzied.
Broadway World
####Websites
www.jennawatt.co.uk | @theJennaWatt
####Credits
The Tom McGrath Trust, Summerhall, National Theatre of Scotland, Forest Fringe, The Arches, The Basement, Tron Theatre.
Sat 13 Apr, 12noon-5pm.
the Bluecoat, Liverpool
'Poolside Emergency 2013
Fri 19 + Sat 20 Apr, 7.30pm.
Contact
Turn 2013
Fri 26 Apr, 7.30pm.
Z-arts | Double Bill
You Look Like Ants | Delicious Monster
Thu 2 + Fri 3 May, 7.30pm.
Contact
Works Ahead 2013
70/30 Split | Kitty Graham | Joseph Lau | Ellen Turner | Lena Simic | Façade Theatre | Wayne Steven Jackson
Thu 9 May, 8pm.
Contact
6 Degrees Below The Horizon
Fri 31 May, 7.30pm.
Z-arts | Double Bill
The Middle
(preview)

| Rat, Rose, Bird Thu 13 + Fri 14 Jun — 7pm Part1 + 9pm Part2. Contact
Zilla!
Thu 20 Jun, 7.30pm.
Contact
Flâneurs
† artist workshop, see webpage