Emergency 2013
A free day-out for the curious.
Presented by Word of Warning, Blank Media Collective + Z-arts
####Saturday 5 October 2013, 12noon-11pm
Manchester's marathon micro-festival returns for its fourteenth year — the bizarre, the bold + the beautiful popping up in a plethora of spaces.
Last year we taped performers to windows, played a uniquely guttural rendition of Nessun Dorma and unearthed a viscerally prehistoric woman. This year will be an equally eclectic performance lucky-dip in two locations — your chance to sample the different and all for free.
Drop-in for ten minutes or stay for the full eleven hours — a free day-out for the curious with over twenty-five new works; featuring artists (subject to change):
Maiada aBOUD | Lindsay Bennett | Nathan Birkinshaw | Sarah Boulton | Kerry Carroll | Collective Unconscious | Dirty Shade | Drunken Chorus | Frances-Kay | Geranium Theatre Co | Paul Hurley | Lucy Hutson | Lotta SCAF | Manoli Moriaty | Paul O'Donnell | PartSuspended | Beth J Ross | Sheep Knuckle | Small Acts | Chloë Smith | lili Spain | The Same, But Different | Voris / Buchanan | Zimmermann / Singh
Plus commissioned works from Rebecca Bowley + Mike Chavez-Dawson.
Sniff out Dove — an ambient intervention by Sarah Boulton, who has invited all our participating artists to smell the same.
####Venues + Booking Details Date: Saturday 5 October 2013, 12noon-4pm
Venue: BLANKSPACE, 43 Hulme Street, Manchester M15 6AW
Tickets: FREE no booking required
Venue Tel: 0161 222 6164
NB. Thanks to building works, Hulme Street has been bisected by a large grey wall; to reach BLANKSPACE, follow the diversion signs, or on foot, arrive via Medlock Street, see map.
Date: Saturday 5 October 2013, 3pm-11pm
Venue: Z-arts, 335 Stretford Road, Manchester, M15 5ZA
Tickets: FREE no booking required
Venue Tel: 0161 232 6089
Venues Map
####What people said about the work
A review of the work presented at BLANKSPACE by C. James Fagan.
A review of some of the work presented at Z-arts by The Mancunion.
####Schedules (timings are approximate)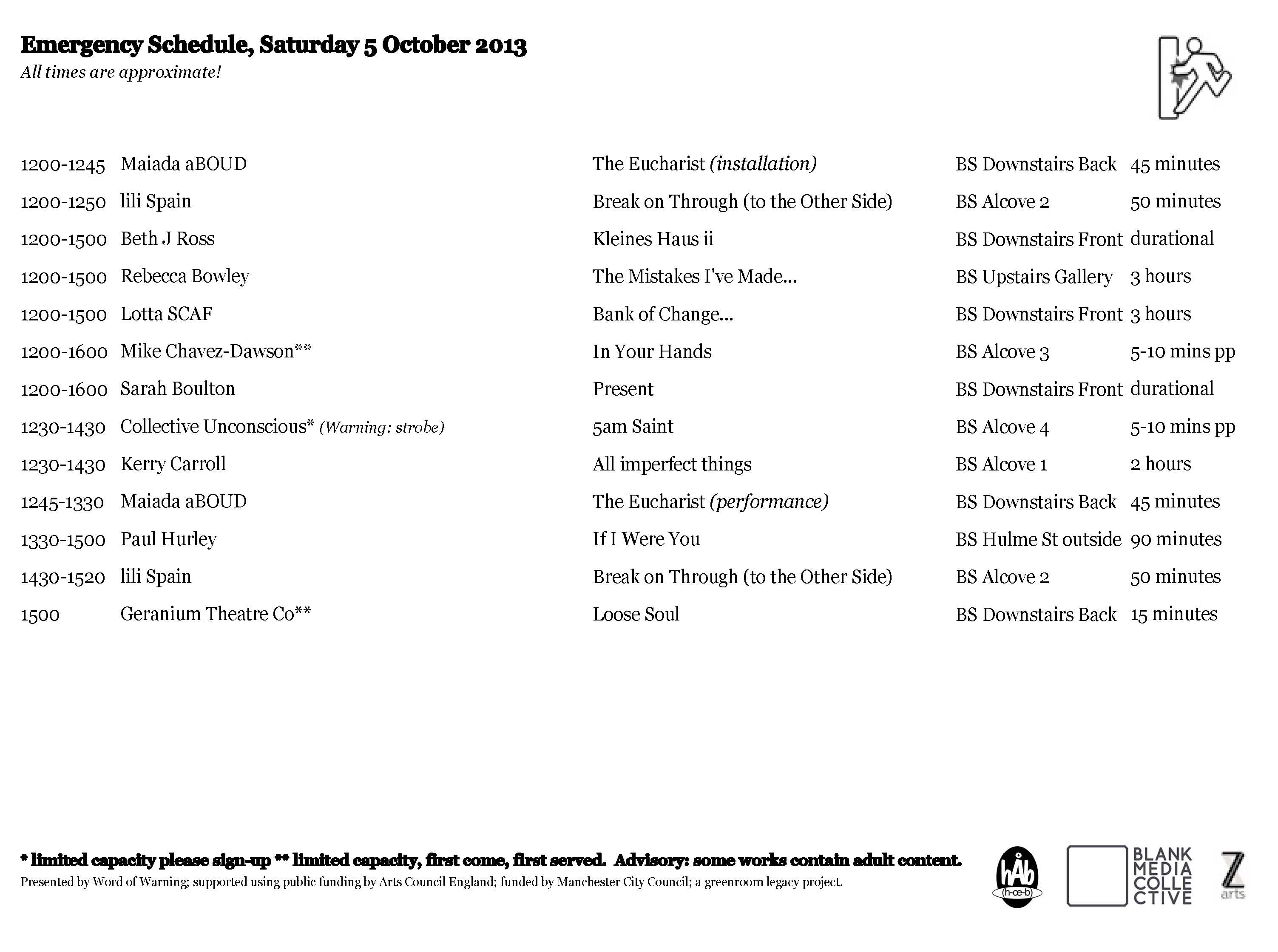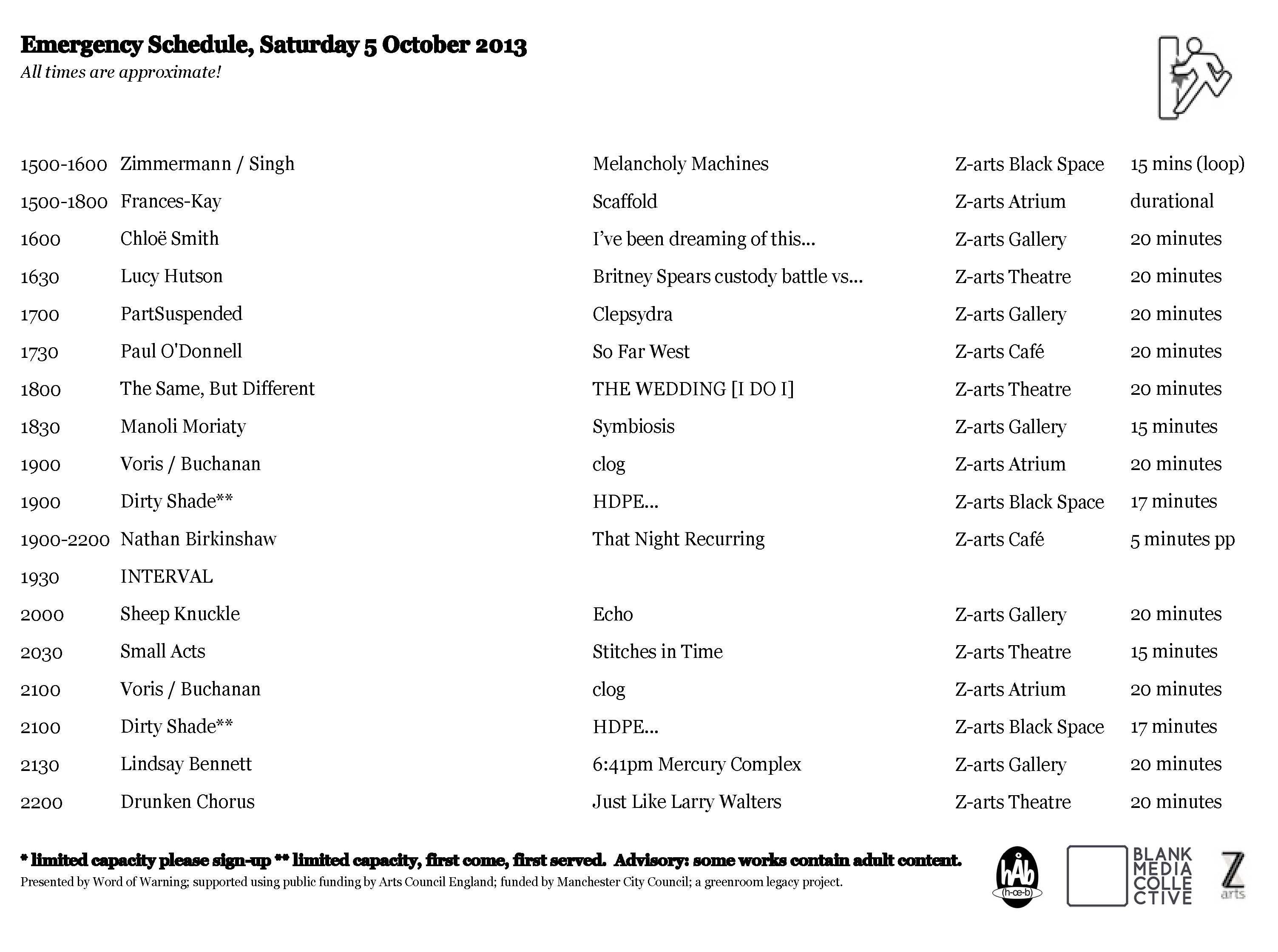 ####Access Information
Emergency 2013 takes place in a number of different spaces and formats — some seated, some standing, some spoken word, some visual.
Some of the work is suitable for the under 16's, the majority may not be.
Upstairs at BLANKSPACE is unfortunately not wheelchair accessible.
For specific age and access information please email info@habarts.org or call 0161 232 6086.
####Credits
Emergency is co-produced by hÅb, Blank Media Collective + Z-arts; a greenroom legacy project.
Maiada aBOUD | Sarah Boulton | Rebecca Bowley | Kerry Carroll | Mike Chavez-Dawson | Collective Unconscious | Geranium Theatre Co | Paul Hurley | Lotta SCAF | Beth J Ross | lili Spain
Frances-Kay | Lucy Hutson | Manoli Moriaty | Paul O'Donnell | PartSuspended | Chloë Smith | The Same, But Different | Zimmermann / Singh
Lindsay Bennett | Nathan Birkinshaw | Dirty Shade | Drunken Chorus | Sheep Knuckle | Small Acts | Voris / Buchanan