Alex Bradley + Scott Smith
Field Test in Garageland
Presented by Word of Warning, Guiness Northern Counties + Z-arts
during Domestic
####In Brief A field test to pull your eyes to the periphery and the wilderness beyond.
Durational, from sunset every night, this 'depth of field' illusion nestles amidst trees, forming a hidden landscape made immersive by sound — a moment of rural tranquility amidst urban chaos.
Coming to life at dusk, Field Test in Garageland is experienced by looking out from within an empty garage, immersing its audience in a world far from its building-site surroundings.
Please note: this piece takes place in an unheated garage, wrap up warm!
####Venue + Booking Details
Dates: Friday 8 + Saturday 9 + Thursday 14 — Sunday 17 November 2013, open 5-10pm each evening
Venue: Cooper House, off Boundary Lane, Manchester, M15 6DX — a 5 minute walk from Oxford Road (Aquatic Centre/RNCM), with a bus stop right outside for no's 53, 85, 86, 99, 101, 104, 105, 108, 109, 112, 250, 253, 263 & 291.
BOOKING ESSENTIAL:
Appointments can ONLY be reserved over the phone: 07581 299 439 (leave a message + we'll get back to you).
After your encounter, donations are invited.
####Access Information
As a sited event, Domestic presents a number of access challenges. Field Test in Garageland takes place in a basement level garage and wheelchair users should be advised there is a fairly steep slope to negotiate. Audio-visual installation, no spoken word.
For specific age and access information please email info@habarts.org or call 0161 232 6086.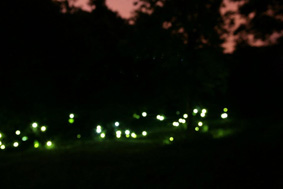 ####More
Originally a work for a rural glade, here Field Test has been reimagined to offer respite in a more urban setting. The piece is composed of an array of over 500 solar-powered LEDs and a four speaker synchronised surround-sound.
"My family suffer from cataracts, a blurring of the vision. I haven't personally suffered from this condition as yet, but I have taken the Humphries Field Test 6 times. This simple test examines your peripheral vision."
Field Test is an explosion of this test; an artistic extension of the bio-medical examination, a way of recalibrating our viewpoint to the outskirts, or the edgelands, into the darkness and wilderness where glow worms insist we move on. Field Test uses remote speakers, LEDs, and nightfall to entice an audience into a collective 'test' of their senses, to take their senses literally to the edge and then beyond.
####Who are they?
Alex Bradley (UK) is a Bristol-based sound and performance artist creating large-scale immersive sound works including Whiteplane_2, described as 'beautiful and disorientating' (The Observer). A former Cooper House resident and greenroom regular, last seen in Manchester as one half of the GO Project, Field Test in Garageland marks his return to his home of more than a decade ago.
Scott Smith (US) is a Kansas-born musician, a player of the steel guitar resonant with the feeling of belonging to absolute wilderness, of single railway tracks cast into the desert.
####What people have said about them
Whiteplane_2 with Charles Poulet: 'Achingly beautiful and fascinatingly different.'
Glasgow Herald
####Credits
Alex Bradley is an Associate Artist with In Between Time, by whom Field Test was originally commissioned.
Supported using public funding by the National Lottery through Arts Council England.
Domestic is produced by hÅb; supported by Guinness Northern Counties, Z-arts + City Response Ltd.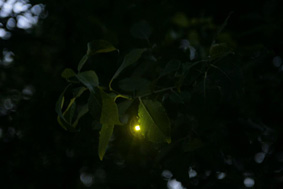 ####Website
@atasterisk