Angel Club (north)
Minute
####In Brief
we don't have much time…just one minute … so much we want to do…. we will have to be quick…..there is something I need to ask you……is there something you need to say ?……quickly………you don't have much time
'minute' - a minute but universal  pubic engagement from Angel Club (north)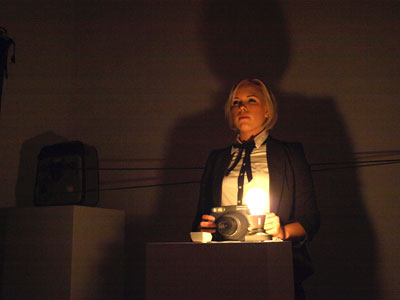 ####Who are they?
Based in the North West of England, Angel Club (north) have been making performance for 10 years in both theatre studios and public settings. Recent works include 'Beyond the Sea' (2008-2010) and 'Obstacles to Coming home' (2007-9) The company has presented at The National Review of Live Arts (Glasgow) and enjoyed a 10 year working relationship with 'greenroom'. They  presented  the  finale of the last ever greenroom emergency in 2010.
####More
Inspired by the cheerful pessimism of contemporary astrology and by our need to know we will be remembered…if only for a minute.
 
As a fraction of the lifespan of the universe … life, as we know it, is only possible for one thousandth of a billion billion billion billion billion billion billion billion billionth of a percent. - Brian Cox
carpe diem! - Robin Williams
####Website
####Works Ahead: Interactions
A journey around the hidden spaces of a theatre - one monumental installation, three intimate encounters…
October 2011 saw an extraordinary coming together of over 30 artists in a day-long maze of performance: emergency accommodation.  Two whole buildings resonated with small exchanges, moving installations and intriguing conversations, punctuated by naked encounters and full-blown performances. Recapturing that spirit of adventure, Works Ahead invites a group of the most intriguing emergency accommodation artists to develop and present their work in a takeover of Contact Space 1.
#####Credits
Thanks to Blank Media Collective.
A hÅb/Contact Re:Con co-production for Word of Warning.
PERFORMANCES: Thu 31 May, 7.30pm
INTERACTIONS: Fri 1 Jun, 4-9pm